Regular price
Sale price
$6.50 USD
Unit price
per
Sale
Sold out
Share
This is a DIGITAL l sewing pattern for an Edwardian Ladies vests, worn around 1890.
Please scroll down for yardage and pattern information.

The sewing pattern shows two different views after typical vests from around 1890.
Both vests are meant to be worn over a corset to reach the typical shape of the 1890´s with a high bust point and a narrow waist, fitted with darts at the front and back.
- View 1: single breasted with stand-up collar
- View 2 double breasted with shawl collar

Fits following patterns perfectly::
#0414 Cycling Skirt: https://www.etsy.com/de/listing/212870832/edwardianischer-rock-fan-skirt-um-1890?ref=shop_home_active_1&crt=1

→→WHAT YOU RECEIVE←←
This is a DIGITAL pattern (PDF), you can download both size ranges and languages after payment has been confirmed.
The pattern comes with detailed and illustrated sewing instructions in English and German. It is a multi-size sewing pattern, you can choose between Sizes US 8-18 (EU 34-44) and Sizes US 20-30 (EU 46-56). A seam allowance of 5/8" (1,5cm) is included in my patterns.
The pattern is ready to be printed out on DIN A4 or US Letter. Format DIN A0 to be printed at a plotter / copy-shop comes with a second email at no additional costs.

→→HOW MANY PATTERN PAGES TO PRINT←←
The sewing pattern itself consists of:
Size US 8-18 (EU 34-44): 24 pages A4/US letter or 1 1/2 A0
Size US 20-30 (EU 46-56): 30 pages A4/US letter or 2 A0

→→PATTERN INFORMATION←←

Recommended fabric:
Fashion fabric: (silk) taffeta, jacquard and brocade fabrics
Flatlining: midweight cotton fabric, silk organza
Back / Lining: midweight (twill) cotton fabric
Interfacing: hair canvas or midweight linen fabric

Yardage:
Size US 8-18 (EU 34-44):
Fashion fabric View A + B: 1yd. with a width of 51" (1m with a width of 130cm)
Flatlining View A (B optional): 1 yd. with a width of 51" (1m with a width of 130cm)
Lining View A + B: 1yd. with a width of 51" (1m with a width of 130cm)
Interfacing View B: 0.8 yds. with a width of 35" (75cm with a width of 90cm)
View A: 12 buttons Ø 3/8"-5/8" (1-1,5cm)
View B: 10 buttons Ø 5/8" (1,5cm)
1 vest buckle 3/4" (20mm)

Size US 20-30 (EU 46-56):
Fashion fabric View A + B: 1.1yd. with a width of 54" (1m with a width of 136cm)
Flatlining View A (B optional): 1.1 yd. with a width of 54" (1m with a width of 136cm)
Lining View A + B: 1.1yd. with a width of 54" (1m with a width of 136cm)
Interfacing View B: 1.1 yds. with a width of 35" (1m with a width of 90cm)
View A: 12 buttons Ø 3/8"-5/8" (1-1,5cm)
View B: 10 buttons Ø 5/8" (1,5cm)
1 vest buckle 3/4" (20mm)
View full details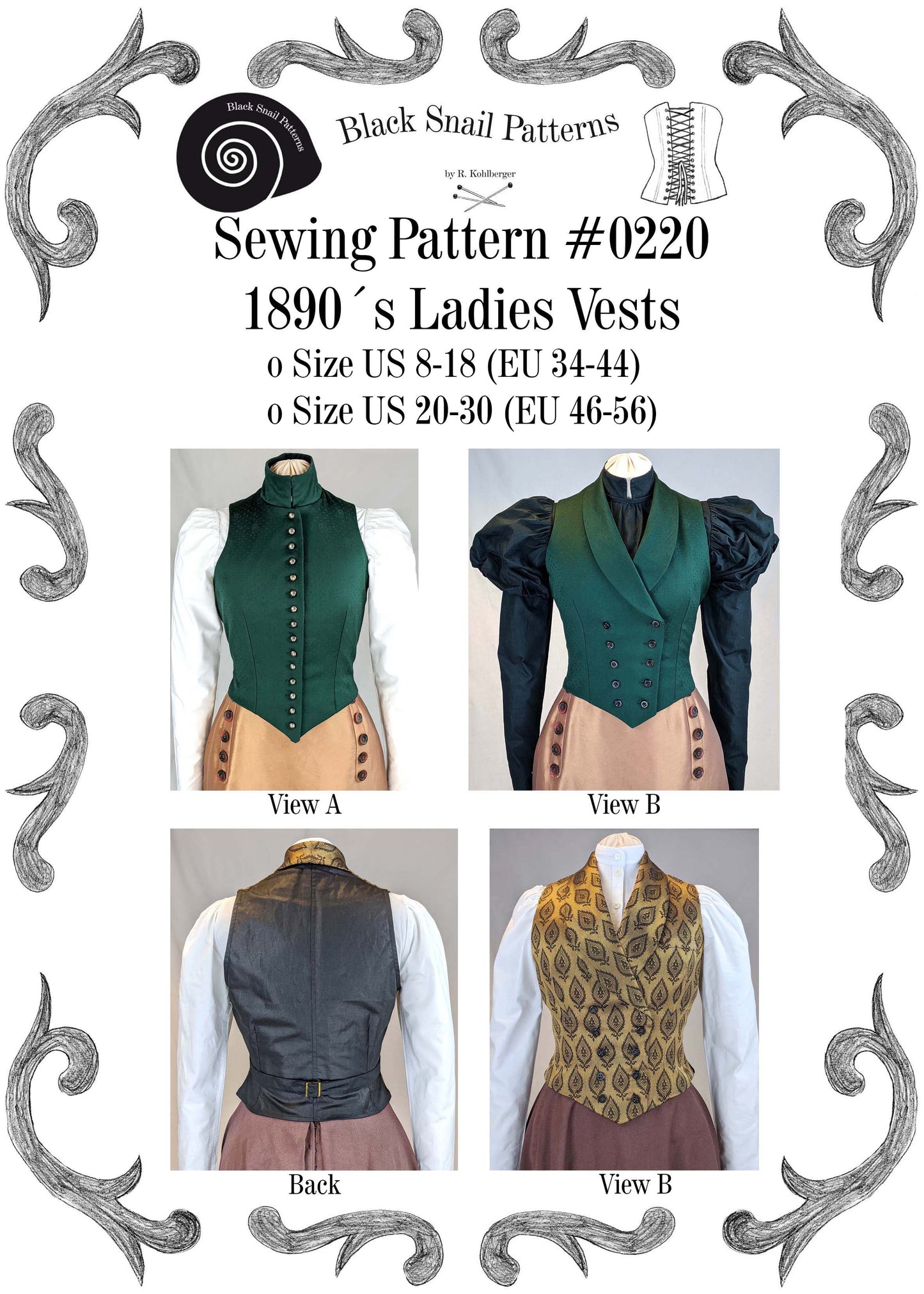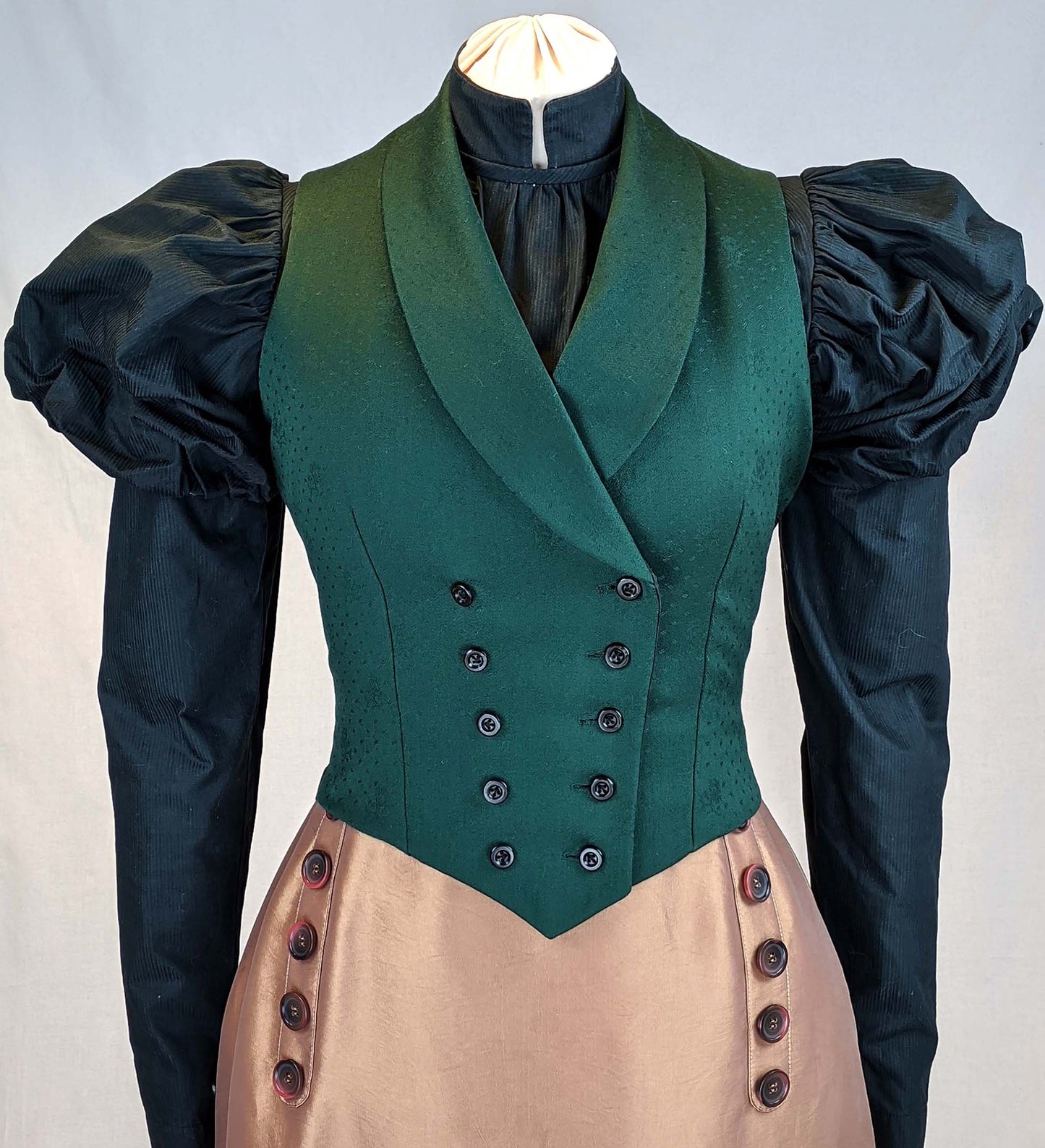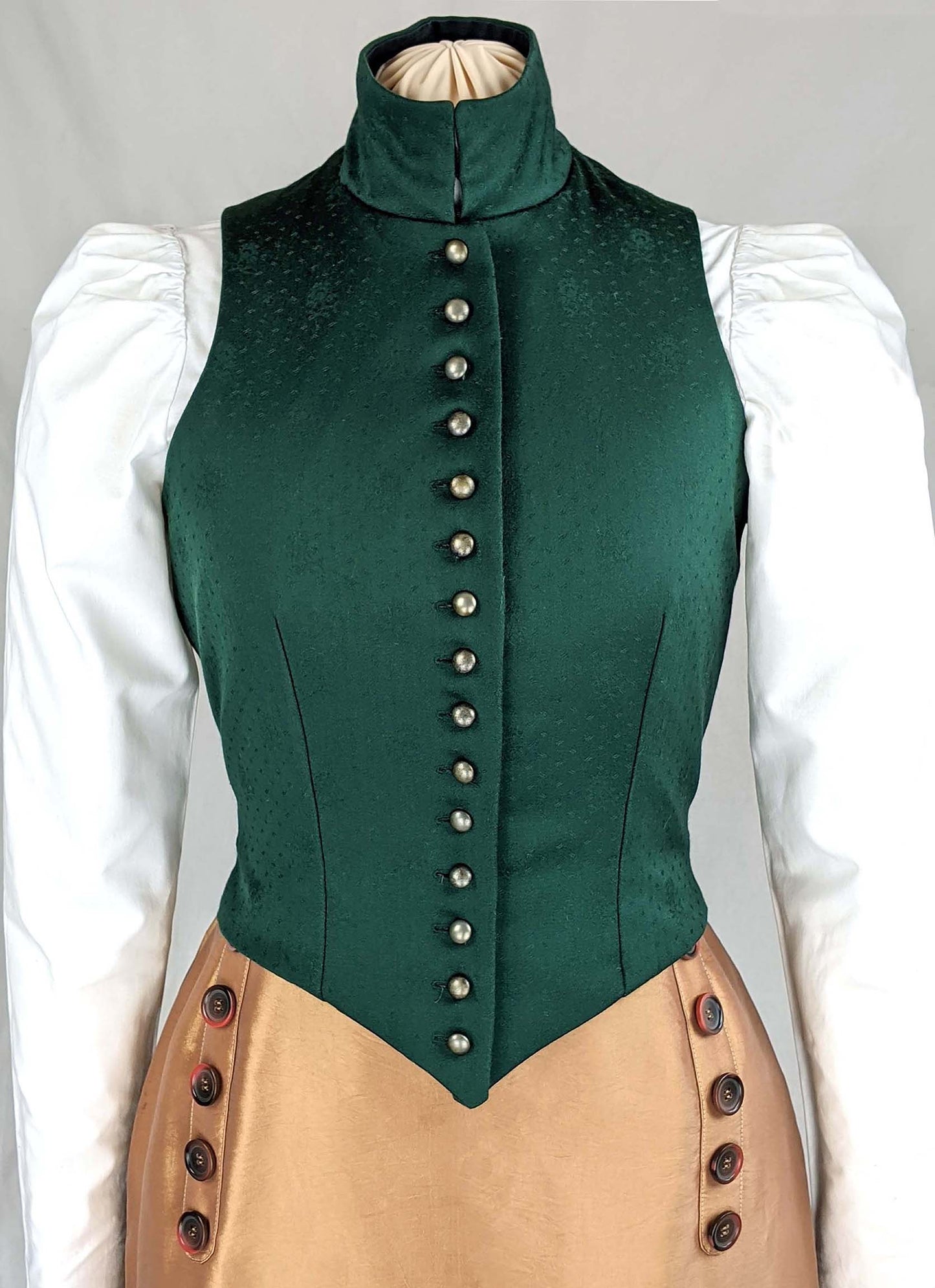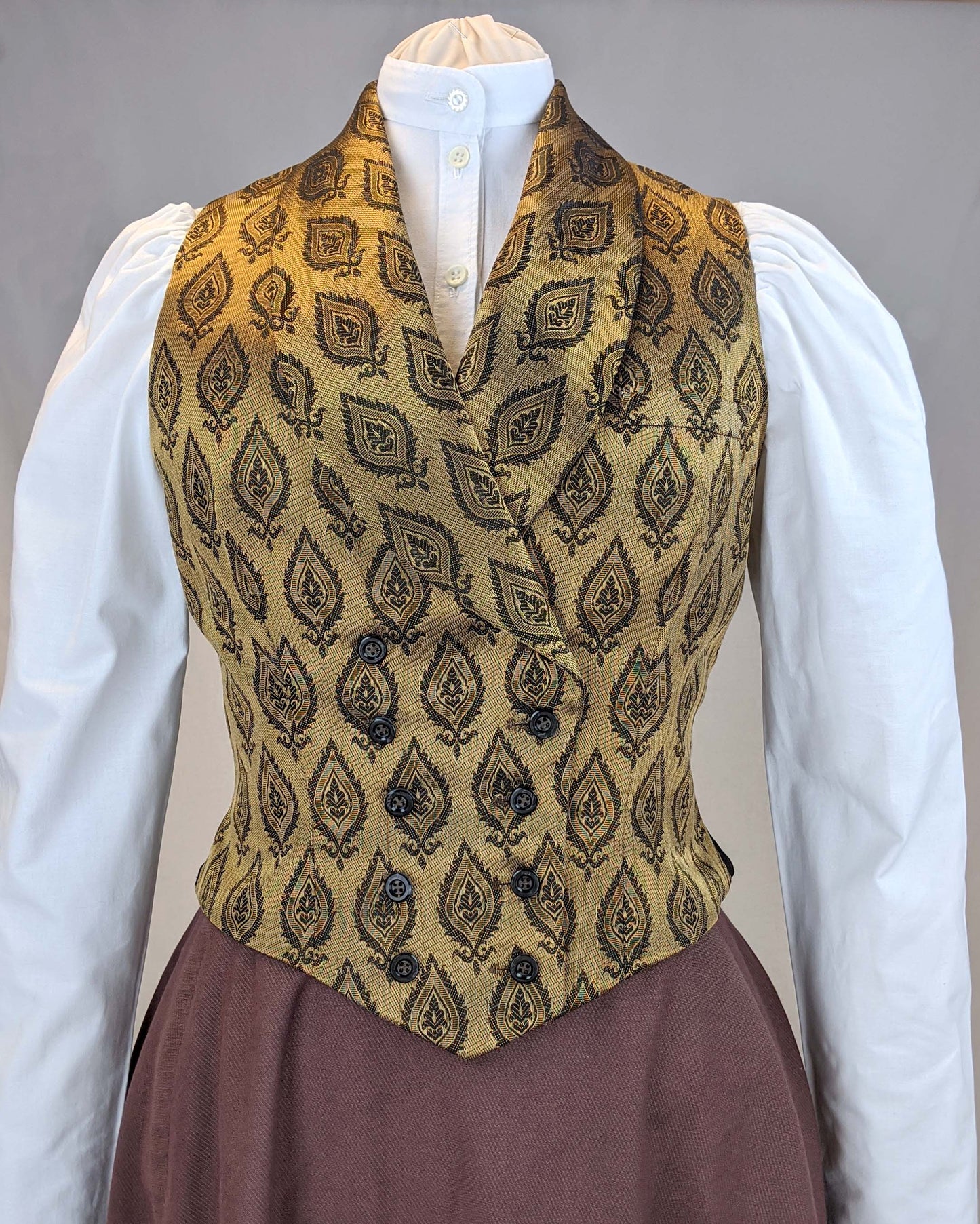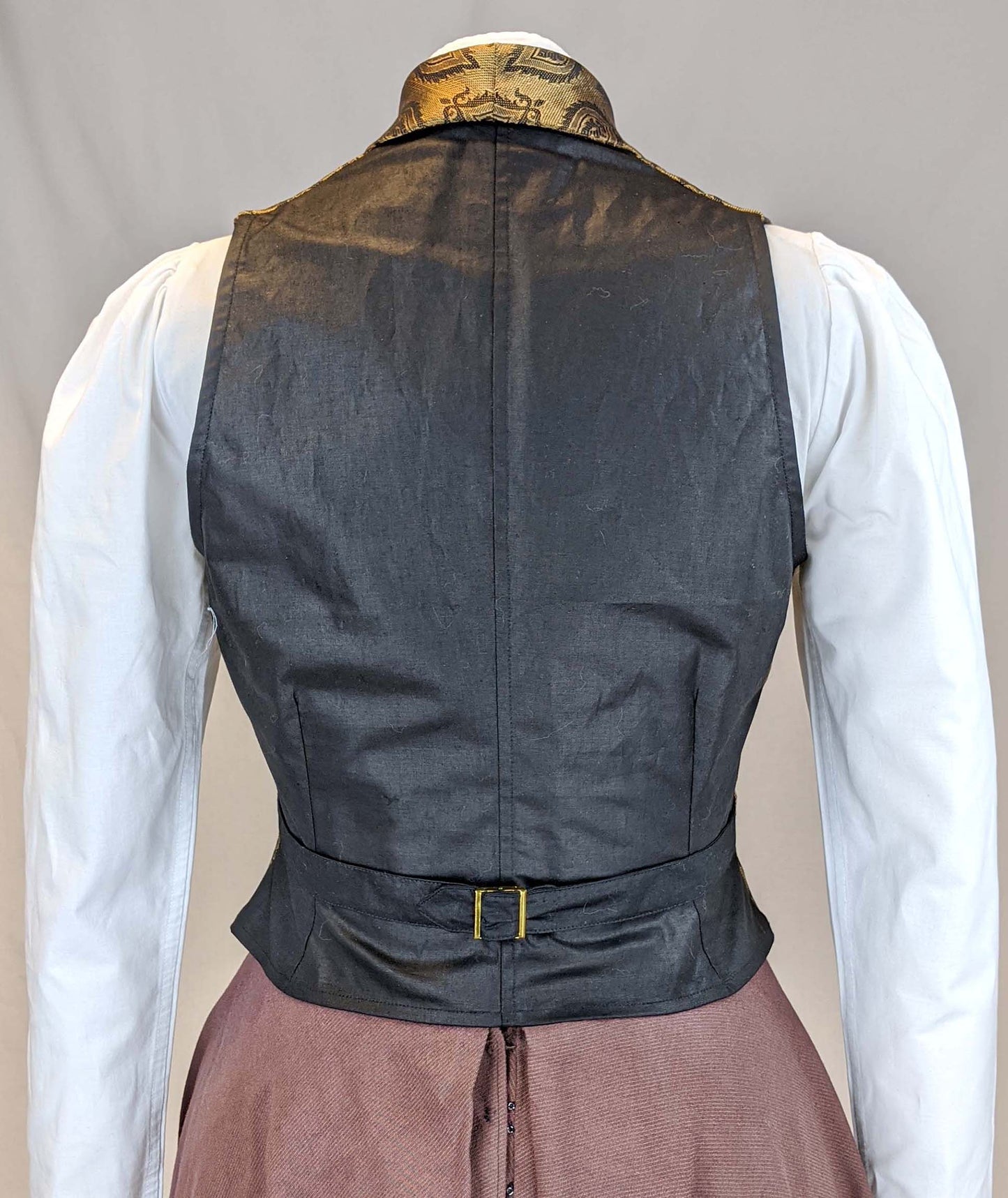 Vest pattern
Easy to pay and download online. If/when I have time for a project it has to happen immediately, so a print at home pattern was ideal.
Excellent pattern
I'm guessing this is the comments section as it is in German and I can't get it to go to English. Anyway, the real reason for commenting is that this is the first pattern I've ever bought that fits first time and needs no alteration to get it to fit me (well if I wanted to be very picky I might tweak the shoulder seams a tiny bit but not really necessary). Wouldn't think the instructions are going to be completely clear to everyone as they're not all pictures and few words as the big companies do but, if you have a modicum of experience or sense you'll be able to work it out. Great pattern and I'll be buying more
Tip For Printing
If you are struggling to get pages to print to actual size, change your printer setting to "poster". That will convert it from a two page document to a 24 page document that prints the pattern at proper size you can tape together.
1890 waistcoat
Easy pattern to print. Clear instructions.
#0220 Edwardianische Damen Westen um 1890 Schnittmuster Größe EU 34-56 PDF Download